The Questions You Need to Ask to Evaluate Your IT Consultant Rightly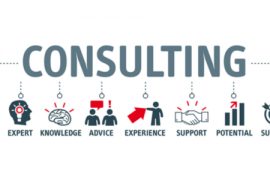 Despite the pandemic-hit economic repercussions, according to the recent study conducted by Ibisworld1, the IT consulting industry is set to experience a consistent growth through 2025. An accelerated rate of adoption of big data analytics, cloud-computing, among others will set the stage for an increasing market spend in this industry.
Evidently, this has spurred a huge demand for IT consulting services as more enterprises embrace technologies to stay at the top of the digital marketplace. The supply market is a busy place with a multitude of vendors each with promises of extraordinary services that you cannot possibly deny. Hence, the challenge is not in finding an IT services company but to find one whose services are perfectly aligned with an enterprise's business objectives as well as the budget.
Before we delve into the determinants of the perfect IT consultant, lets first know what an enterprise must fulfill before they start their quest for IT support services.
Outline project objectives: It is crucial for an enterprise to have its project objectives clearly outlines. For instance, a small-sized e-commerce business entrepreneur must ascertain the fact that whether they want IT consulting services to support their online business framework to its entirety, set up the online process, or need occasional troubleshooting support.
Draw the budget accordingly: With a clear vision of project objectives, an enterprise will have a fair knowledge on the kind of technology to accomplish the objectives and the amount of investment needed for the procurement of the necessary technology and tools. This will assist an enterprise to delineate the budget to the project accordingly.
Write an RFP: A request for proposal (RFP) should ideally lay out an enterprise's project objectives, the deadline to finish the project, and the budget. It serves as an ideal communication of an enterprise's expectations to an IT services company.
Once an enterprise has all the above duties ticked, it is the right time to start the search for an ideal IT consultant. Here are some of the factors that an enterprise must keep in mind while exploring the busy IT support services supply market.
Is the Experience of the IT Consultant Aligned to your Business Type?

One of the critical parameters to look at while engaging with an IT services company is its strict alignment of expertise to an enterprise's operational ecosystem. It is always recommended that prior to finalizing a contract, the outsourcing enterprise must run a pilot project to assess the IT consultant's expertise in fields that outline the former's functioning. In addition, an outsourcing enterprise is advised to test an IT consultant's expertise to work with a Fortune 500 company as well as small and medium business enterprises with equal elan.
Get a Validation of the Experience Claimed by an IT consultant

It is much like running a parallel investigation to validate a consultant's experiences projected by an IT services company. There are three basic ways to go about it:
• Ask for previous work samples: A good look on the samples of their previous work always holds better value than relying on recommendations to get a better impression of a consultant's quality of work. It offers a bird's eye view of an IT consultant's area of weaknesses and strength while addressing real-world technical issues.
• Cross-check certifications' authenticity: It is prudent to validate a consultant's industry certifications or accreditations. This includes determining the authenticity and dates when the certifications were obtained. One way to ascertain this is to send a validation request to the body that had issued certifications. The request should typically enlist the name of the consultant, type of the certification, validity date of the certification, and the unique ID number assigned by the certification body.
• Cross-check with references: It is recommended that the outsourcing enterprise seek a second opinion about a consultant from different references. Gauge the relationship of the consultant in question with the references. This will provide a fair idea of the mode and quality of operation of the consultant across different operation ecosystems.
Give this blog a read to know how to spot the right vendor to entrust your IT responsibilities.
Assess the Ability for a Flawless Communication
A competent IT consultant is expected to convey every information pertaining to a certain project in a language that can be comprehended by the management at ease. An IT consultant should be well-versed with a language that befit both the technical and business settings.
Ideally, an IT consultant must adhere to the following factors while communicating in a business or in a technical setting:
• The audience
• The message that he/she wants to convey
• Is the message perfectly suited for the audience?
• What are the inter-personal/departmental relationships that he/she needs to keep in mind?
• Ensure that the information is not conveyed to the wrong department during addressing
• If the information conveyed is in the client's best interest
• Ensure the information to be conveyed is replete with pertinent facts and have enough credibility
• Keep the tonality professional and courteous
Requisite Expertise on New-age Technologies and Platforms

It is essential that the outsourcing enterprise has a fair knowledge about the array of technologies that a consultant have a hands-on experience. It provides actionable insights about the technical acumen as well as the quality of the service that will be rendered by the consultant. In line with this, it is pertinent to determine whether the consultant takes a proactive approach towards fixing an issue. Ideally, a responsible IT support services company is expected to leverage cutting-edge analytics and tools to analyze and monitor the functioning of a system to prevent any unprecedented system downtime. An ideal IT services company is also expected to leverage automation at a significant rate to reduce human intervention, thereby saving on labor costs as well as boosting productivity.
Ensure Utmost Visibility Across the Process
C-suite executives and administrators must stay at the top of the IT operations while working with an IT consultant. This will help the decisionmakers of an enterprise to determine whether the vendor is being able to cater to the enterprise's business needs and aspirations.
Executives must keep an eye on the following during their engagement with an IT consultant:
• Nature of communication of the vendor with the enterprise's client. Whether the vendor use a help desk or directly communicate with clients.
• Understand the vendors' SLA policies to get a clear picture of the level of transparency they are willing to offer.
• Ensure getting an access to all the pertinent project documents to gain a visibility on all system performance issues as and when they occur. It would also help executives to understand how and to what extent is information being shared with clients.
• Ensure that the vendor offers a direct access to the consultant who is hired to work in the outsourcing enterprise's location.
Why Outsource IT Consulting Services?

The concept to outsource IT consulting services is becoming common-place mainly because of three factors which are the lack of a proper in-house IT infrastructure, prospects of saving money, and gain access to the best and the newest innovations. For enterprises, non-IT in particular, establishing an in-house IT department is not only expensive but also a time-consuming proposition, considering the time and money is required to train professionals.
An outsourced IT service company is expected to leverage high-end and the most updated technologies in the market. To invest on such technologies will drain an enterprise's almost the entire budget while paying a monthly subscription fee to an IT vendor opens access to such technologies.
Here are some of the benefits that are leading enterprises gravitate towards IT consulting services.
Cost-saving opportunities- Employee salaries, hardware expenses, software license costs, cloud infrastructure maintenance and cost are some of chief spend drivers while maintaining an in-house IT team. These expenses are expected to take an upward flight as newer technologies ruffles the market. Moreover, an unsuccessful IT team will take an immense toll on the investment done on resources and tools. On the contrary, the investment done on outsourcing IT services varies based on quality and scale which accommodates the broader spectrum of services within a fraction of their budget.

Better Security- An outsourced IT service vendor is expected to specialize in providing robust security measures to prevent cyber threats such as hacking. IT consulting services vendors tend to have a repository of the most updated security technology and tools which are ideal to safeguard an enterprise's digital assets. In addition, having robust cybersecurity measures at disposition effectively minimizes the risk of data breaches which can invite costly litigation and a tainted brand image for an enterprise.
Allows to Deepen Focus on Core Operations- The eventual growth of a business entails a substantial increase in IT responsibilities which befall on employees. It becomes a cumbersome task for an employee to execute their core operations while attending to IT tasks that are beyond the scope of their expertise as well as their daily responsibilities. Inevitably, this results in a gradual decline in revenue generation and frequent instances of business downtime. Outsourcing IT support services to expert offsite professionals will allow a breather for employees to focus on their core tasks and responsibilities which will not only boost productivity but also motivate staffs to step out of their ways to innovate ways to promote efficiencies in operations.
Scalable services and solutions- Scalability of solutions is extremely critical for any business to keep up with the technological inroads that are made on a daily basis. A majority of enterprises face the pressing requirement to scale their resources in terms of technology and manpower to address the dynamic nature of their business volumes. Enterprises should have resources ready at their disposition to be able to address any unprecedented increase in technology and other infrastructure requirements upon a business expansion. Outsourcing IT services to external vendors will ensure access to both solutions and services that are sufficient to address any emerging IT issues spurred by a business growth, based on requirements. Outsourced IT solutions tend to be more niche and hence more scalable which are ideal for businesses to address sudden changes on an immediate basis.
Scalable solutions empower an enterprise with improved system availability, minimize unwarranted downtime, and immense productivity at all times, whether or not a business grows. Expert IT services providers are expected to proactively innovate ways to execute important business propositions, particularly, when the situation demands a prompt scaling up to a sudden surge in business volumes. Access to scalable solutions and services further reinstates the benefit of outsourcing IT consulting services to third-party vendors.
Who We Are and Why You Should Trust Our Expertise?
This article is authored by experts at getSmartcoders. We are leading player in the software development outsourcing market and have over 8 years of an enriching and fulfilling experience in innovating IT solutions. Our extensive expertise in this field has allowed us gain deep-dive domain knowledge and unlocked to us access to critical resources that go a long way in allowing us to engineer innovative solutions to address a vast range of managed IT challenges across the board.
We capitalize on our hands-on experience in working with complex technologies, solutions and processes and actionable insight from vast experience to offer consultation services with measurable impact that are aligned to your business needs. Our IT consulting services are designed to implement strategies and act as a catalyst for your business growth, at minimal costs and quicker-to-market models. We utilize our acquired expertise and years of exposure in the industry to offer unique, out-of-the-box solutions for our clients to assist them in staying at the top of technological advancements across the globe.