App User Experience: What it Takes to Create the Wow Experience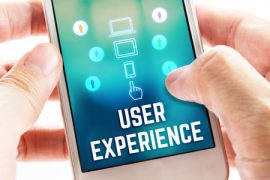 What does it take for a mobile app to rise above the noise?
Uniqueness? – not entirely
Look? – To some extent
Cost? – Nope
Usability? – Absolutely yes
Usability is arguably the one and only feature that move a prospective user from the "maybe I will give it a try" feel to "it is absolutely worth trying". To induce this compulsive feel it's important to have a strategic and innovative approach to app design development.
Did you know that IBM's Simon which was the first smartphone built in 1994 had over 10 inbuilt apps more commonly known as "features"?  

Since then, developers have taken into their strides to design and build apps that render a mobile phone more than just a device to communicate with people situated at a distance. People across the world are witnessed to spend sizeable amount of money on mobile apps that keeps increasing with every passing year.
However, a lousy user experience will eventually let mobile apps phase out from consumers' wish list. This leads to immense financial and brand recognition loss for mobile app development enterprises.
Did you know that on an average a mobile app loses about 77% of daily active users within just three days of its installation? 
Simplicity is found to be the key to a favorable mobile app user experience. For most users the ability to find the right buttons at the first go sums up the right app experience. With this in mind, we look at the 10 best practices that mobile app developers commonly adopt to enhance mobile app user experience.
Simplicity is a beauty– Simplicity is of prime importance for users. It will take them a heartbeat to abandon an app if they are made to undergo multiple steps to complete the account setup and registration process. A mobile app must have a minimal design approach with viable button and icon sizes and formats. Icons should be readily and clearly displayed to users for the users to get started with the app. The gestures to activate any feature of the app must remain consistent to improve usability and retain simplicity of the mobile app.
Did you know that a favorable mobile app onboarding experience can drive a 50% app user retention rate? 

Better UI for the best UX– A UI is the first layer of communication between a user and an app. The quality and functionality of an UI can be the deciding factor of a mobile app's popularity among users. As a matter of fact, even big guns in the industry weren't spared from users' wrath because of a poor feature in their UI.
Did you know Netflix's autoplay feature which was the autoplaying of a movie or a show on the homepage if the mouse is hovered over them for too long created a major user dissatisfaction? 
For a simple yet a functional UI, uniformity in design must be maintained across color, pattern, and distance between all the icons in an app. High loading speed is a must to minimize user bounce rate and users should be able to navigate freely from one window to another window of a mobile app.
Minimize search effort– A critical factor driving a favorable mobile app user experience is the ability to quickly find what a user is searching for. Keyword search and barcode scanning are some of the effective strategies that a developer can integrate in their app to make a user's search experience seamless. Users must also be provided with filters and search options to help them find directly what they ae looking for.
Ensure better security– Users are alert and they are smarter. Hence asking for permissions to access photo gallery without any particular need will lead user abandon the app. This reinstates the necessity of setting clear permission policies and enable users with better control and a heads-up about how their personal information will be used within the app. It is recommended that developers include direct links to the brand's privacy regulations page for a better clarity for users.
Minimize user input– Entering multiple information during a checkout or a registration process on a small mobile screen can be a very frustrating experience for users. To improve their experience, it is essential to minimize the number of fields to enter information and retain only the necessary fields. The entire process can be further simplified by enabling features like spell-check, predictive text support, and autocomplete.
Seamless functionality– The bottomline of an app's functionality is its ability to perform the task efficiently for which it was built. To achieve this, developers must focus on building the core features of an app that is aligned with its intended functionality. It allows users to complete tasks in a seamless way, thereby driving a favorable mobile app user experience.
User experience personalization– Developers are advised to use user data to feature material and content to which users can readily relate. Featuring the user's name on the app screen and messaging is another way in personalizing the user experience. However, it must be kept in mind that including multiple content that are irrelevant and push notification can add to the user's frustration.
Did you know that Starbucks' mobile app uses its customer data to design special discounts, deals while also making it easier for users to track loyalty programs? 
Retain native elements in mobile app– A native mobile app built for a specific platform is much faster and more responsive. The data and visuals are already pre-stored in a mobile with that particular platform for which the native mobile app was created. This accelerates the app loading time. Native mobile apps tend to be more interactive and intuitive as it is based on a specific platform, thereby adding to the mobile app user experience.
Provide user assistance– Users often search specific queries regarding the app in its toolbar. Such users must be provided with multiple ways of support in the forms of FAQs, live chat support or click-to-call buttons.
Continual testing and improvement – Another critical way of enhancing mobile app user experience is to conduct remote user testing to check the app usability and functionality. This furnishes useful insights from remote app users. This should be followed by the app development team setting up quality assurance processes and bug fixes if detected.
To Conclude
At the end, the user goal should be given paramount importance while ideating and designing an app to secure a favorable mobile app user experience. Developers must shift from the traditional to a mobile-specific approach which helps in ushering satisfactory user experience while also meeting the business goals of the mobile app development company.
Who Are We and Why Are We Considered as an Industry Authority?
This blog is penned by getSmartcoders, a renowned mobile app development services company. We have built a range of apps for diverse industries and have distinguished ourselves by ensuring high functionality apps coupled with great user experience.
---
---