Android mobile app development has been gaining increasing importance in the world in recent times. This is because of our increased reliance on smart phones to even function on a day-to-day basis. From connecting to our peers on social media to answering work emails on our devices, there is no limit to how many mobile apps we use on a regular basis. Businesses are also seeing a need to invest in Android mobile apps to better serve their customers across all geographic locations. The cost to build an Android mobile app can range anywhere from $4,000 to $250,000 approximately, depending on the team's geographical location.
Android Mobile App Development Challenges
However, investing in mobile app development for your business has its own set of unique challenges. Some of these include:
Investment in Software and Hardware:
In order to develop Android mobile apps from scratch, you will need reliable hardware and specialized software. These days, there is a huge variety of open source and paid platforms that you can choose from to help you get started. However, you will have to obtain licensing from numerous software vendors and spend a lot of money purchasing adequate IT infrastructure and hardware to get it off the ground.
Investment in Human Resources:
When you hire software developers, you are essentially committing your application to the skillsets that they possess. If the skillsets that they possess are not diverse enough, it will be a long ride for you as generalists are not known to develop useful products. In order to incorporate newer technologies, you will have to hire more employees who possess the desired skillset. That or you will need to spend more money training the ones you already have onboard your team. All this is to say that maintaining an in-house Android application development team can be very costly and tedious.
Benefits of Outsourcing Android App Development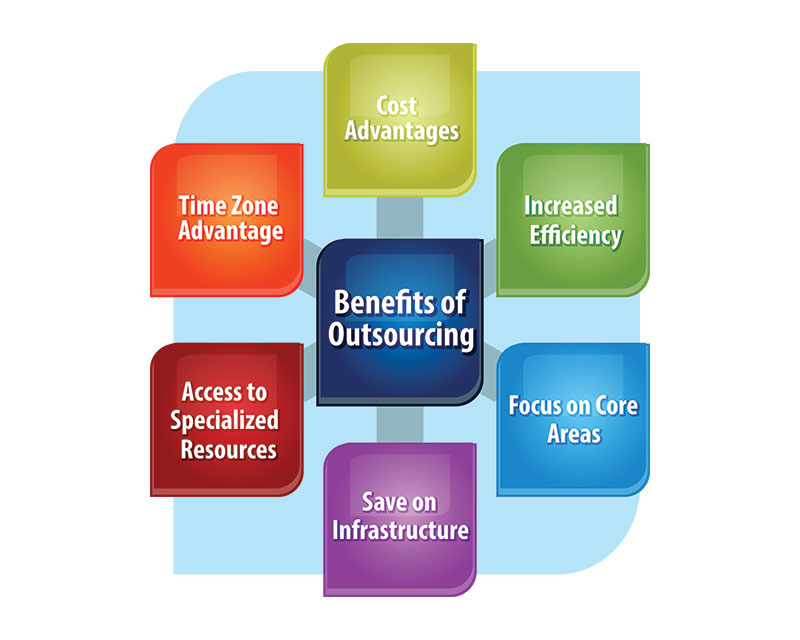 From greater cost savings to reduced development times, outsourcing your requirements can be fairly advantageous to your operations. Why does outsourcing Android app development services make sense for your business today you may ask? There are a number of reasons but let us explore the many benefits you can gain from outsourcing mobile app development to begin with.
End-to-End Processes
Relying on a fixed, in-house team of developers often brings a somewhat limited scope of experience and knowledge to the table. This is something that dedicated outsourcing Android application development companies with many domain specialists can easily resolve.
When you outsource Android app development services, you are investing in a complete solution to your mobile app development requirements. This is because you have a complete team at hand immediately. You do not need to hire more resources to make up for talent you do not already have onboard. Also, each team comes with a diverse range of experiences within the team.
This means that they can work together to creatively brainstorm functionalities and other unique components to add to the final product. Moreover, the development process is highly organized with post-launch services and proper maintenance included in this end-to-end solution.
Reduced Development Times
When you outsource your app's development to an Android app development company you will be provided with a definite timeline for the completion of the finished product. This is because the team that is working on your product will be doing so around the clock. You can expect to get your hands on the app in far less time because the experts will be working to meet the deadline stipulated in your agreement.
This means that you can expect your app to be ready in less time than if your in-house team were in charge of its development. This is largely due to the fact that outsourced coders will be dedicated to one task until is it completed. Outsourcing your Android mobile app development to the experts will result in reduced development times, no matter what.
Complete Control Over the Development Process
Outsourcing Android app development services will also help you have more control over the development process. This is because you are fully equipped with a variety of tracking tools that you can use to assess the progress that is being made on a daily basis.
While the outsourcing partner works around the clock, you can give them your feedback so that the final product works exactly as you would like it to. Greater insight into the development process can also result in a better understanding between both you and the outsourcing company. This then only intensifies how mutually beneficial the partnership can be in the long run.
Cost Savings
Businesses that are looking to build Android apps look for an innovative as well as cost-effective solution. There are many countries in the world that have skilled developers who charge a fraction of the cost that first world countries tend to charge for their Android app development services.
This is because outsourced Android application development companies are usually located in more affordable regions of the world like South East Asia and South America. This means that their operational costs are comparatively lower when it comes to covering fixed expenses like electricity, rent, internet connectivity, wages, etc.
Lower costs for the software development company means a lower price quotation for building the exact same app that meets the exact same quality standards. You can benefit from greater cost savings when you outsource Android app development to the experts.
Large Pool of Experienced Talent
Outsourcing Android application development can also give you access to a larger pool of experienced talent. Why rely on your own limited in-house pool of developers to design your Android app when you can get access to more skilled and diverse talent through outsourcing? Outsourced software development companies know the business inside out and so have the right talent and expertise on board to cater to a wide variety of businesses.
When you choose to rely on the few resources you do have on board, you are limiting the functionality and capabilities of your new Android app. This is because they would lack sufficient expertise in developing all the features that would make your app truly remarkable.
Outsourcing your Android app development services will give you access to a larger pool of professionals with extensive expertise in the field. All you have to do is choose the outsourcing partner that meets your unique combination of requirements.
Focus on Core Business Activities
Outsourcing Android app development to India will help you focus on your core business activities as you no longer need to supervise and manage its development yourself. Regardless of which industry your business caters to, ranging from the mortgage industry to healthcare, outsourcing can help you stay focused on what matters most.
When you let outsourced, experienced professionals handle your Android app's development, your business can stay focused on its key revenue-generating activities. Your resources don't need to waste time figuring out how they will take on coding requirements. Instead, your IT staff can carry on working on their routine tasks to keep your business operating at peak performance.
Access to Industry Experts
When you outsource your requirements to an Android application development company, you are leaving experts in charge of its development. You no longer need to be concerned with staying abreast of the most cutting-edge technologies and tech stacks. This is because driving innovation is no longer something that you need to worry about – the industry experts have it covered.
The outsourced agents' core function is to develop your Android app so that it meets your quality standards. This means that they will be fully responsible for staying on top of the latest user trends and ground-breaking technologies in the industry. Outsourcing your Android app development requirements will give you access to industry experts and authorities that you would have otherwise never conceived of working with.
Greater Levels of Productivity
No company wants to waste valuable company resources such as time, money, and effort on hiring new in-house software developers for a single project. With outsourcing, you can have your Android app developed with greater productivity involved in the process. This is because experts use their tried and tested methodologies and practices to deliver the app on budget and on schedule. This means that you can expect to have your Android app developed with greater levels of productivity than if you were to keep its development in-house.
The years and sometimes decades it takes to get proven results every time is what you could expect to be paying for. This is because the outsourcing partner has learned over time how not to let any valuable time go to waste. Developing the Android app in the least amount of time and with the highest levels of productivity is what you can expect when you outsource your requirements.
Improved User Experience
If you outsource Android game development to experts, you can expect to benefit from an improved user experience. Regardless of the purpose of your app, experts know that the only way users will want to use your app over others is if it has a superior user experience. Because they know that you want maximum returns on your investment, they will go to great lengths to set your Android mobile app apart from the masses in functionality, aesthetics, and its UX. Because they know what to look for to make your mobile app a success, they will work to implement the right UX framework and design from the very beginning.
State-of-the-Art Technology
It is difficult for a company to stay updated with the newest technologies especially when technology keeps changing every day. Rather than continuously needing to buy newer versions of licensed software every few weeks, outsourcing gives you access to all the cutting-edge technologies out there in an instant.
This is because the outsourced Android app development company will be the ones to stay on top of them, not you. Imagine the costs and trouble you could save by not needing to consistently upgrade to the newest version of the software when innovations occur. By outsourcing your Android application development to the experts, you effectively guarantee that you have access to the most advanced technologies and development tools available in the market.
As you can see, there are many critical advantages to outsourcing Android application development to the experts. If you are looking to reduce development costs, increase team productivity, and have your product delivered within its scheduled time, outsourcing may be right for you. By turning to an end-to-end solution from app ideation to post-launch maintenance, you are effectively covering all bases for successful Android app development.
Only through outsourcing can you gain complete control over the development process, get the right diversified expertise, and pull off substantial cost savings with one strategic investment. You can look forward to having your app draw users by the thousands as its universal user experience and appeal gives it the power it needs to rake in the profits for your firm.
Who We Are and Why Our Opinion Makes a Difference?
This article is brought to you by getSmartcoders, an enterprise-grade Android app development company with over 8 years of experience in professional Android app development. Our expertise in the field gives us unprecedented knowledge of how the software industry has been advancing over time and what new trends to expect as technology continues to evolve. Our comprehensive Android app development services help our clients achieve greater levels of productivity, gives them access to industry experts, and results in more significant cost savings.