What is OpenCart Web Development? What are the Benefits of Using It?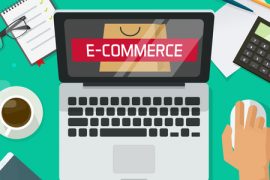 With the rise of digit revolution, the presence of humans on the world wide web has drastically increased. Although the internet revolution has enhanced almost every sector and process, online shopping has become an integral part of humans in the 21st century. From digital to non-digital products, we head over to Google to search it and buy.
Due to this increase in online shopping, many local and international brands who may not directly operate or sell digital products have also started setting up their online stores which is commonly called ecommerce stores. An ecommerce store is very helpful in giving businesses online presence and even enhance their reach to new customers that otherwise might not have come across them.
Ecommerce Technology

Some of the major frameworks used in the development of e-commerce stores are-
OpenCart: OpenCart is another open-source e-Commerce platform development solution that is written in PHP. It is very well known for its ease of use and scalability. It is free and distributed under the General Public License (GNU).
WooCommerce: WooCommerce is an open-source e-commerce development tool that comes as a plugin in WordPress. Hence, if your website operates on WordPress, WooCommerce might help you with the setup. It is written in PHP and operates around 20 per cent of the e-commerce stores across the globe. 
Magento: Magento is an open-source e-commerce platform licenced under the Adobe ecosystem. It is written in PHP and uses multiple other PHP frameworks like Symfony and Laminas. Magento is famous for its quality and ease of use.
Building an e-commerce website isn't easy at all. It has almost all the major features that any offline shop or showroom has. The user must be able to explore different types of products easily, without any friction. The selection and process must be simple enough to cater to the needs of different kinds of users. The payment gateway must be secured with the latest technology to provide excellent transparency and prevent loss of money. And finally, the order tracking and post order functionalities should be on par with the customer's expectations.
Hence, to perform these complex tasks, developers and researchers across the globe have developed different frameworks that help modern developers to build an e-commerce website easily. Just like we have different stock softwares to create different applications, these frameworks also operate on different platforms to create beautifully operational e-commerce stores. 
While working for Walnut Creek CDROM, OpenCart was designed by Christopher Mann in 1998 and later was acquired by The FreeBSD Mall. It was built using the Perl language and was finally released in May 1999. After being stalled for several years, the project was reinitiated by Daniel Kerr for his own e-commerce software in PHP. In this article, we will focus primarily on Opencart and will analyse points where it lacks and points where it stands out. 
Why is Opencart so Well Known as an Ecommerce Platform

1. Usability: Now considering the fact that the e-commerce operator might not be technologically advanced enough to understand the nitty-gritty details and features of a platform. Hence, for a basic technology user, a platform that can present the information and applications in one place in an easy to use flow, will be a win-win for him.

Opencart performs brilliantly in this aspect. The dashboards, the user controls and the flows are so smooth and expressive that it feels like a person is manually and intuitively doing all the tasks.
Compared with Opencart, WooCommerce and Magento are a little more complex to operate and sometimes causes problems for the users.
2. Price: If you are a business owner, while developing your e-commerce store you would not like the idea of paying for every small tool or service that is used in the process. You already have to take care of web hosting, domain hosting, payment processing, etc.
In this respect, Opencart comes to your rescue. It is entirely open-source and free to operate. On top of that, the maintenance charge is very low as compared to other platforms. Just a small monthly fee, and you got it covered.
Compared with Opencart web development services, WooCommerce has a bit higher maintenance fee and Magento works on a freemium model.
3. Payment Methods: As a business owner, you need to be flexible in terms of the mode of payment. Every user has different preferences for payments and having support for all of them is very beneficial.
Hence, Opencart comes with in-built support for all the major payments processing platforms like cards, PayPal, and even the third-party platforms.
4. Shipping Methods: You would definitely want your customers to have a flexible shipping process. Some of the users might want your product on a specific day, some of the users might want it after some time, etc.
Hence, thanks to its open-source code, Opencart provides flexibility for shipping methods too.
Compared with Opencart website development services, WooCommerce and Magento, doesn't easily support flexible shipping methods.
5. Responsive on the website: The internet users are spread widely over different kinds of devices. Some of them use laptops to explore, and some use their smartphones; some use their iPads, etc. And under these categories too, people use different kinds of phones and laptops having different screens and operating systems.
Dropping support for any of them would directly lead to a potential loss of customers. Hence, Opencart's brilliant cross-platform supports all the devices operating on any operating system and browser.
Compared with OpenCart Design and Development Services, WooCommerce and Magento although it provides cross-platform compatibility, still doesn't provide the peace of mind easily that one can get with OpenCart.
6. Easy to Setup and Integrate: Whether you are doing it manually or you are outsourcing the development process, the setup and integration of OpenCart are really simple. Due to its open-source nature, you don't have to worry much about the licencing and all, just a few clicks and you are done.
Compared with OpenCart website development services, WooCommmerce and Magento take time and knowledge for setting up as they are not very user friendly.
7. Templates: Customisation is the key tool for any brand. Your e-commerce store must be customised according to the theme and vision of your brand. To serve this purpose, OpenCart comes with pre-installed templates to design and customise your e-commerce website.
8. Add-ons and Plugins: Despite having such beautiful features, there might be a case where you still want a specific feature or tool on your e-commerce store. To solve this problem, a huge community of developers have got you covered. There are thousands of open-source and free to use plugins and add-ons available for OpenCart.
Compared to OpenCart web development services, WooCommerce and Magento have a better variety of plugins and add-ons. Still, the range provided by OpenCart is sufficient to cater to anyone's needs.
9. Reviews and Ratings: Product reviews and ratings are a crucial part of any e-commerce store. It gives you an idea about different products or services and helps you to identify what specific problem a user is facing. Reviews and ratings also help the users to prioritise and choose the best product out of multiple options available.
Keeping this in mind, OpenCart comes with built-in support for reviews and ratings.

10. SEO Friendly: One of the major reasons to have an e-commerce store is visibility. And by visibility, one can primarily assume visibility on the search engine. As a business owner, you would definitely want your website to come on top of the search results when any of the keywords related to your products are entered.
The OpenCart's framework is designed in such a way that it exposes the keywords and data to the search engine to read and hence, optimise the results accordingly. This leads to a higher rank of OpenCart based e-commerce website on different search engines.
Compared to OpenCart website development services, WooCommerce and Magento have complex frameworks that make it difficult for the search engines to read the information and optimise accordingly. Hence, this can cause a drastic effect on the visibility of your website.
11. User Friendly: User experience is one of the important things that major brands keep in mind while building their showrooms and shops. Same goes for online e-commerce stores. If you provide your user with the best user experience, they will come back for shopping and even recommend the website to their friends and family.
Hence, owing to its completely open-source nature, OpenCart provides different tools and features that help you in improvising the user experience of your website according to your needs.
Compared to OpenCart website development services, WooCommerce and Magento have a bit rigid structure that doesn't allow much customization. This restricts the business owners to reflect their brand in the design of the website.
12. Less Requirement of Resources: As discussed earlier, OpenCart is very light and easy to operate. Its open-source compatibilities allow the e-commerce developers to use just the specific parts of the framework as per the requirement. This decreases the burden of storage and processing powers and hence, eventually saving your money spent on servers and cloud storage.
Compared with OpenCart, WooCommerce and Magento take more resources due to the vastness in their frameworks and end up burning your pocket. Its because of this ease of development that most businesses prefer to along with outsource OpenCart web app development services.
13. Reports: A business owner does not opt for an e-commerce store for just simply selling. Reading and analysing the data is another benefit of the e-commerce platforms that help the owners to analyse their progress and track any losses the causes for the same.
For this purpose, the business owners must have access to different reports according to their demands. OpenCart provides an option for the business owners to customize their reports and present it to them in the required and preferred form.
Compared to OpenCart eCommerce web development services, WooCommerce and Magento, although it provides good reports, do not allow to customize the presentation to a level that OpenCart boasts of.
Who We Are and What Makes Us an Industry Authority?
We are an ISO certified global company that offers Outsourcing Services. We started in 2002 and got incorporated in 2004 with a single goal in mind- equipping businesses with technology to build efficient products and services. Since then, we have been negating global distances, saving time and increasing the bottom lines for companies across the globe. getSmartcoders has become a name to reckon with, with over 2 decade of overwhelming experiences supported by 3500+ efficient employees with an outstanding vision.
getSmartcoders is determined to cater the customers with the ongoing value to keep them in the race of technological advancements. We make use of sophisticated technology and best industry practices, to deliver a variety of top notch and cost-effective IT Solutions, from different global locations thereby empowering our clients to achieve their aspired goals.