How Taxi Apps Have Changed the Industry and Where is it Heading

The advent of mobile apps has benefited all industries in transformational ways, but the taxi industry has, arguably benefited the most. Be it the customer, the taxi driver or the operator, none is any more confused about the other. Apps have empowered each of them to do their job with an air of certainty. The table below tells how mobile apps have simplified lives for the stakeholders.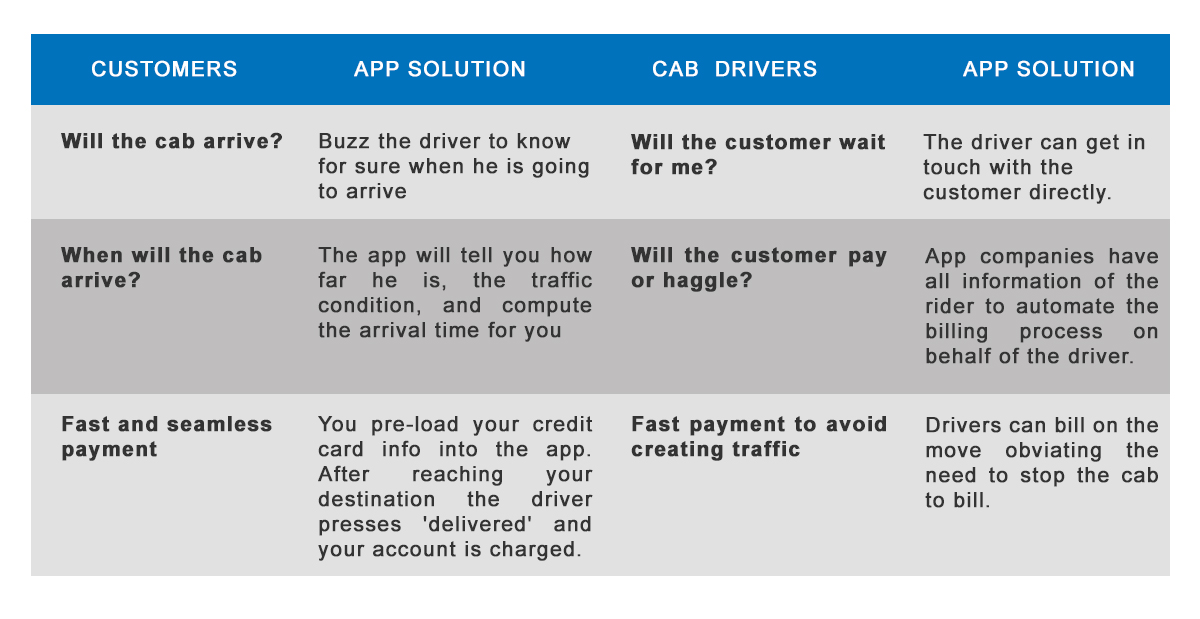 For operators, the bonanza comes in the form of possibilities for enhancing revenues by offering customers with a range of car types and referral bonuses when new passengers sign up. Besides, it empowers them to manage their fleet with top-notch efficiency and enhanced transparency.While these happen to be some of the basic features to facilitate cab hiring, other enticing features packed into them for greater ease include, fare estimator, store booking history and dresses, schedule cabs a fortnight in advance, and even crime stoppers to help you spot rogue cabs.
Future of Taxi Apps
In a world being taken over by IoT, the advancements made by taxi apps is set to undergo further transformation, most of which can be fascinatingly unimaginable. For instance, an IoT enabled taxi-app will read social platforms to know your tastes and offer more personalized services to you. Based on the tweets you share or your Facebook likes, the in-built TV in the cab will understand your preferences and show you your favorite channels while on ride. Further, IoT enabled mobile app will be able to trace your movements to tell the cab driver that you are ready for a drive. For instance, once your office hour's or shopping gets over, drivers will get an automated intimation on the exact time to pick you up.
getSmartCoders has extensive experience in developing mobile apps, and taxi apps happens to be one of our forte. Read this case study to know how we conceptualized and delivered an advanced taxi app to one of US-based client. To know more about our mobile app building expertise talk to our experts now.