Two Key Trends That Would Impact Mobile App Development in 2020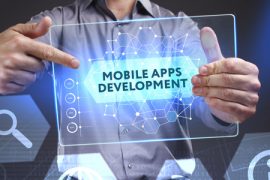 Though there have been many evolutions in technologies over the past decade alone, 2020 stands to be the most interesting year for mobile app development in particular. This is because all the technologies we have been using so far are being brought together to form newer and more sophisticated technology solutions.
The 2 most impressive developments that are set to disrupt the market are low-code or no-code technology and 5G networks. Let us explore both in more detail to truly understand just where they will take us and how they will drastically influence our world for years to come.
Low-Code & No-Code Development
Because talented software developers are hard to come by, a phenomenon called low-code or no-code has been taking mobile app development by storm. Both technology platforms eliminate the need for programming expertise as little to no code is required to build an app.
In fact, all that non-coding employees of a company have to do is simply drag-and-drop different functional components into a visual workflow to build an app with zero understanding or programming knowledge whatsoever. This means that the complexity of a mobile app development project is significantly reduced and the time taken to build and deliver a mobile app may now only take days or weeks, instead of months and years.
This increases an enterprise's business agility, which gives them a competitive advantage over other key players in the industry. Low-code and no-code technology platforms are great for enterprises with limited budgets, which may not allow them to look to outsourced or in-house mobile app development for answers.
The modular approach of this type of app development allows office administrators, business analysts, and executives to build and test apps quickly across all environments. All that they need to know is what problem they want to solve and which features their mobile apps should have in order to do so.
5G Technology
5G technology, which is a completely new network architecture, is set to upgrade the performance of mobile apps by generating rapid real-time data and providing rich user experiences that could not have been conceived of before. 5G cuts the network latency (or the speed of the transmission of data) to just 1 millisecond, as compared to the 50 milliseconds latency that the current 4G network architecture works with.
This means that there will be less network delays and interference on a whole. Also, 5G networks promise significantly higher bandwidths. This allows for the connection of more IoT devices to the network, which increases the scale at which IoT can be used. The increase in speed and responsiveness that 5G offers mobile apps will assist in the real-time processing of data in milliseconds as well. All in all, 5G networks stand to improve the smartphone experience and enhance mobile connectivity in 2020.
Low-code and no-code technology platforms coupled with 5G networks are only the beginning of a radically new technology landscape for smartphones and mobile apps in 2020. As the demand for mobile applications increases, the need to have a mobile app development method that can meet this demand is critical.
With almost zero programming knowledge, anyone can build an app with drag-and-drop visual components to help address any real-world or business challenges out there. Moreover, 5G networks can only up the game by providing data processing and data transfer capabilities within 1 millisecond or less. What this means for enterprises is improved speed in building and deploying apps as well as more rapid data processing and more powerful IoT capabilities.
Get Smart Coders has a proven track record in helping enterprises make the most of new technologies as they are developed. From greater bandwidths and data processing speeds to easier mobile applications development and deployment, enterprises have a lot to look forward to in 2020. If you are in need of expertise to get your enterprise ready for the impending technology revolution, look to Get Smart Coders to set you up for success.