Why is No-Code The Latest Fad in the App Development Arena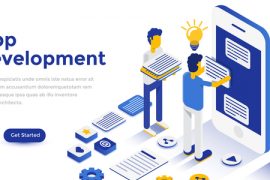 If your IT team is inundated with work and you give them one more task, you might not receive the desired response. They have a backlog, and you add to their misery by telling them to work on the development of another application. What would it mean? Months of writing codes, testing, and deployment. The result may still not be desirable if your developers could not give their 100%.
Enter citizen development and no-code app development platforms. It is your saviour to overcome the problems related to traditional methods of app development. This article takes a look at how you can leverage no-code app development platforms for improved business success.
What Are No-Code Development Platforms 

A no-code application development platform enables non-coders to build software apps without having to code much. The platform uses a visual development framework that allows anyone to create apps. It is possible through drag-and-drop elements and adding different application components.
Many organizations are today leveraging the platform to fulfil their app development goals. Software developers can work with improved efficiency, while first-time users do not have to spend many resources to get started. The no-code app development platforms are all set to improve the skillsets of the existing workforce and improve productivity.
No-code app development platforms can reduce the development time by 90%.
Why Are Mobile Apps Important to Grow Your Business?

A study by Think found that 26% of consumers always look for a product or service on the official mobile app before using a search engine. Creating engaging mobile apps is thus vital to enable them to buy directly from your app. The apps should also be easy to use and have complete information about products and services.
Mobile devices furthermore attract almost half of the internet traffic. What it means is you can no longer get away with an average mobile website. Mobile users these days put a lot of emphasis on performance and functionality. When you craft a marketing strategy for your mobile users, ensure that user experience is the prime consideration. 
Here are some advantages of building a mobile app for your business.
Helps you build a loyal community from your target audience through simplified interaction with your users.
Gives you key analytics for creating customized business and marketing strategies. Some of the analytics include the most viewed products.
Helps you retain loyal customers who can also turn out to be brand advocates.
Gives you a competitive edge over your competitors.
Helps you create engaging brand experiences that affect your bottom line positively.
According to a survey, 80% of respondents felt that their IT teams got a breather due to citizen development platforms.
Benefits of a No-Code Development Approach
Here are the three major benefits that no-code development platforms offer.
Drives digital transformation
Legacy systems in an organization are one of the reasons why it is tough to bring in a digital transformation. A lot of resources go into maintaining them, which also affects the overall efficiency. 
Studies have shown that 90% of businesses could not experience growth and improved efficiency due to legacy systems. IT leaders also agree that old platforms are one of the biggest roadblocks for digital transformation.
Organizations often face a shortage of resources to meet the project demands. One of the driving factors behind this is a lack of skilled software developers. It is one of the key challenges that has led to the meteoric rise of no-code development platforms in recent years. 
Businesses today no longer have to wait for months before an application gets coded, tested, and launched. While there are fears that these platforms may make traditional developers redundant, the same is not true. Just like any other technology, no-code platforms are here to simplify the work of software developers.
Accelerates app development process
A lack of capacity within IT teams leads to a situation where the backlog increases. Internal demands can keep developers occupied. It does not leave them with much time for the creation of new apps.
A contributing factor to this problem is the growing skill gap. With the advent of new technologies, it becomes vital for software developers to keep themselves updated at all times.
The low-code app development market will generate a revenue of $187 billion by 2030. It will be a steep rise from 2019 where it was $10 billion. The CAGR during the forecast period is 31%.
Best Practices to Adopt No-Code App Development Platforms
Here are some best practices you need to adopt when opting for no-code app development.
To make your no-code app development efforts a success, you will need a clear vision and well-defined goals. You can start on a small scale and build a few basic applications first. A successful execution here will help you win the trust of all stakeholders.
You can get started with applications related to the allocation of resources. Collecting user feedback is also essential as it will help you iron out flaws related to your application. You can then scale your development process to include complex apps.
A hybrid team comprising seasoned IT professionals and no-code developers can be an ideal way to progress ahead. You can make the team work to deliver more apps and at a faster rate. 
Over a period of time, the guidance of seasoned professionals will also help no-code developers advance their knowledge and skills. It will become sustainable for you to allow no-code developers to work independently.
Bottom Line
No-code application development brings with it several advantages. These include savings in terms of time and cost to build applications. A quick turnaround will ensure that you can scale your business operations at ease. 
When you create an engaging mobile app, it will lead to satisfied users who can make repeat purchases. As your loyal patron, they will also become a good source of word-of-mouth publicity. Get started with no-code app development platforms today to unleash their true potential.