If your enterprise is torn between the deafening demand and a mounting expenditure on specific IT infrastructure and domain-experts and a zeal to design an app that is touches the right chord of the current consumer demand, then it is highly likely that your decision-makers are exploring options to either build an in-house team of experts or are anticipating to outsource the mobile app development task. Even though regardless of any industry, the eternal doubt that every decisionmaker has faced is whether to recruit an in-house IT team or to outsource this service, and most of the time, this contrast is not always very monochromatic, it has always boiled down to the expenditure that both of these options can incur.
The year 2020 has created a unique premise for the software development sector that has set forth trends which will have a telling influence on the budget optimization to outsource mobile app development in 2021.
Is Outsourcing Mobile App Development a Viable Option in 2021 in Terms of Cost?

Unless an enterprise has an already established IT team that have an impressive growth trajectory by developing app across industries, it is always prudent to outsource to mobile app development vendor in an economy that is stepping into 2021 and is still under the hostage of the Covid 19 pandemic. Period. While most of the businesses are on a war footing to devise and implement strategies in the year 2021 to recover the financial losses they have in this year, it is certainly not a prudent decision to invest extra money, time, and effort on an in-house development team. To harbor talented IT professionals on a handsome payroll and then incurring extra expenses on training them on niche capabilities to see your visionary unique app taking the shape of reality will only add digits to your annual balance sheets.
The cost of hiring new staff will continue to be an added expense. Moreover, an in-house IT team will not necessarily be dedicated towards a single app development task as they will have other IT administrative tasks and parallelly running software development projects to attend to. This, ultimately, stretches the timeline of launching the finished product in the market.
A trusted third-party iOS app development company or an android app development services provider assumes the responsibility of giving shape to your app aspirations within the stated budget. They also ways to cut a few inches of your budget on the app as they have domain expertise and know the nitty gritty of the solution framework that is utilized for a particular app. This is nothing short of a welcoming change and an advantage of outsourcing mobile app development project in 2021.
In addition, to give shape to a customer-facing application demands specialized software and modern-day tools rather than the normal dev tools. Cost of getting licenses of these specialized tools further adds to the overall expenditure of designing a new app.
However, the buck does not stop there. The in-house IT team will require training to optimally use the new tools which burdens the overall expenditure and time. This is one of the major pain points of most of the enterprises who tend to gravitate towards android app development services providers or an iOS app development company. Such third-party vendors have a team of experts at their disposal who have specific domain expertise that can be readily assigned to projects with unique asks from clients. They have the necessary software and are trained on the same which can be leveraged in the mobile app development project of the client. This relieves the additional financial burden of procuring costly infrastructure as per the demands of a project.
What Factors Will Define the Cost of Outsourcing Mobile App Development in 2021?

There is no standard value fixed for outsourcing an application development task. Mobile app development can be a fairly complex job and it is bound to have numerous factors that will impact its development costs at different stages. During the development process, an iOS app development company or an android app development services provider can deploy various techniques and stages at different levels based on client's demands and other economic factors that can influence the cost of outsourcing the app development task.
Here's a look at the factors that influence the cost of outsourcing mobile app development:
Shift to a cloud-based infrastructure– An updated report1 by Cisco stated that by 2021 cloud will host more than 94% of computing and workload required while developing an application. An access to data in the cloud ensures cost optimization as it negates the need to expand the developing enterprise's IT infrastructure. In keeping with the pandemic-induced lockdown, a cloud-based IT infrastructure was instrumental in streamlining the development operations up and running on a digital mode while offering enterprises of every sizes greater flexibility.
Artificial Intelligence gains more relevance– While AI is no new news in the app development arena, the unique pandemic-induced situation in 2020 has motivated enterprises to turn to AI who previously had their reservations. Essentially artificial intelligence has helped automate a certain number of tasks involved in mobile app development which not only saves time but help businesses save money as it reduces dependence on human workforce. To keep up to this trend, iOS app development company and android app development provider are leveraging artificial intelligence as a basic tool in executing app development tasks.
Greater focus on security– The infamous Marriott data security breach that impacted over 5.2 million guests who had used the hotel chain's loyalty application is one of the several high-profile instances of data security breaches in 2020. The global shift to a remote work culture and into a cloud infrastructure has offered the leverage to cyber criminals to launch highly sophisticated data threats in the form of ransomeware, DDoS, among others. Data security instances have invited costly litigations against the who's who in the industry. This has made it critical for enterprises to choose vendors who exhibit sufficient measures to protect confidential data against unauthorized users.
Cost as per regions– The report titled Software Development in Ukraine, Poland, Belarus and Romania in 2019 stated that Eastern Europe will emerge as one of the most sought-after sites for outsourcing services for a range of software development tasks. Affordable hourly rates charged by developers and allowing visa-free travel to some of the leading Eastern European countries that have better expertise for app development collectively contribute to the demand of this region.
Things You Must Factor In while Outsourcing App Development in 2021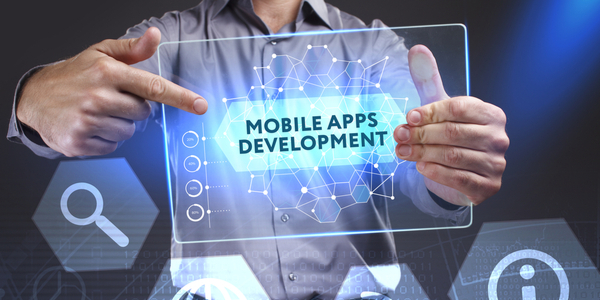 Drawing clear expectations– Ensure that you clearly communicate your idea behind your app to the iOS app development company or the android app development services provider with who you are partnering. The Covid 19 pandemic has brought an evident change in consumer's daily lifestyle, one of which is the no-contact norm. This has resulted in the proliferation of applications that are attuned to the no-touch lifestyle such as mobile wallets, e-commerce applications, among others. These applications will define the technology map in 2021 which makes it essential for enterprises to align their vision to this 2021 software trend. This should be made as a part of an app's blueprint and its marketing strategy and the same should be conveyed to the vendor in a clear manner.
Have a project plan in place– This stage should follow a thorough analysis of your market in the pandemic era, the demand trend of audience in 2021, and capabilities. This stage should answer critical questions like which platform should you use for mobile app development?, what technologies should you use to build your app?, what are the features and functionalities you would want to incorporate in your minimum viable product (MVP)?. Enterprises must have a thorough discussion regarding these questions with their mobile app outsourcing vendor.
Choose a viable pricing strategy- The day is gone when a fixed price model was assumed to be a viable pricing strategy for outsourced app development task. In most of the cases, adopting a fixed price strategy results in vendors neglect some of the intrinsic aspects of app development to meet the agreed budget and deadline. The Covid 19 pandemic has heralded uncertainties in the economy which is why businesses have to stay agile in 2021 to any sort of transformative changes in terms of finance and resources in an ongoing mobile app development project. In this era, the agile app development with its flexibility in terms of time and resources has become a necessity. This helps enterprises to make modification in the plan mid-project, adapt to any change, and adjust accordingly.
Tips to Optimize Your Budget for Outsourcing Mobile App Development in 2021
Create an MVP– While MVP is not a new concept, the wave of economic uncertainties coupled with consumers' changed outlook towards technology usage renders the creation of an MVP all the more relevant in 2021. An MVP is a product version incorporated with the essential features that helps to assess the result of the final product and uncover areas for improvement. It is a part of a lean mobile app development that drops hints on the sales prospects of the final product. Analyzing customers' reaction on an MVP will provide necessary directions towards the road of improvement of the final app to make it more profitable. Most importantly, it saves an enterprise the cost of redoing a full-sized developed app.
Carefully explore app development companies– While exploring the feasibility of partnerships with an iOS app development company or an android app development services provider, it is essential to note that whether their operational framework is attuned to the newer technology trends in 2021. Apart from this, an enterprise must assess the volume and level of complexity of projects they have historically executed. Ideally an enterprise must check the quality and quantity of projects accomplished by a vendor that are comparable to the former's capabilities. A proper understanding of the vendor's capabilities will enable enterprises to fix budget that justifies the resources and time that a particular project with the vendor will entail.
Plan out sprints– Post entering into a partnership with a technology vendor, enterprises should initiate discussing the development methodology required to execute the mobile app development task. Waterfall is one of the development methodologies that are relevant when an enterprise opts for a fixed price model and has stringent deadlines to meet. This methodology is to be adopted only when an enterprise has a clear vision of how the end product will look like and can, thereby implement a step-by-step approach without any chance of implementing mid-project changes. With the changing business scenario that is defining the app development scenario in 2021, adoption of the agile development methodology will provide the leeway to adapt to any changes midway as the outsourcing vendor will be tasked to continuously test the product to bring improvisations. This will unlock scopes for enterprises to optimize the operational cost based on improvisations made on the app design.
Prudent selection of Custom Processes– It is prudent to opt for proven technologies and ready-made technology stacks as custom-made solutions can be costly. On the other hand, customized solutions can usher significant optimization in workflow and curb the cost of product maintenance. At the same time, customized UI and UX designs will be instrumental in augmenting the marketability of a product amidst an uncertain consumer demand scenario in 2021. Keeping all these factors in mind, it is essential to make careful choices in opting customized solutions without overburdening your operational costs. Custom services such as push notifications, GPS; incorporating custom app infrastructure; complexity in design are some of the factors that have impacted the overall operational costs of mobile app development.  
Who are We and Why are We an Industry Authority?
This article is penned by experts at getSmartcoders, an enterprise-grade custom mobile app development company. We implement a well-defined process with rigorous quality control measures in place to ensure that our services help client create products that have an edge in the hyper-competitive market. Our highly customized mobile apps enable continuous updating of products in real-time which helps in enhancing customer experience from the product. We leverage our over a decade long practical experience in working with complex and modern day technologies and solutions. This helped us gain actionable insights into the changing trends in the business landscape that enable us to provide consultation services that add tangible value to your business.