In 2020 , lesser number of automobiles were wheeled out of showrooms, lesser winged machines were plying in the sky, little to no footfall were seen in theatres or foot joints. Dwindling demand, crippling financial conditions of consumers, and a general fear of the Covid 19 contagion had kept these sectors from flourishing in the doomed 2020. However, all was not dull and wan for certain sectors, the mobile app development being one of them.
The ravages of the Covid 19 pandemic could not stop the app library getting bigger and better. As a matter of fact, mobility restrictions and the no-touch policy have unlocked opportunities for enterprises to flood the market with mobile applications that aid consumers concur to the pandemic-induced policies with minimal disruption of their regular lifestyle. Riding on this development tide, the year 2021 will witness newer trends that will characterize the mobile app development sector.
Here's a look at some of the most Exciting 2021 Mobile App Development Trends:
M commerce Apps will Reign Supreme: Handheld devices will Drive All Round Sales
Social distancing norms did not discourage consumers from indulging in retail therapy, the exception being it was mostly done virtual. Brick and mortar retailers with no digital footprint were on a war footing to roll out mobile applications to plug the leakage from their customer base. This has resulted in the big boom in m-commerce.
Clothing retailer ASOS and reputed brands like Adidas and Nordstrom account for over 50% of their sales from their mobile apps and websites.
Still wondering why this mobile app development will surge in 2021. Here are the reasons:
Simplification and security of payment by means of digital wallets. For instance, single-click payment option is a rage since the patent filing of the one-click payments by Amazon.
Retailers get to boost their social media footprint and tap into consumers' sentiment about their products.
It is observed that mobile ads garner higher CTR than those featured in desktops.
AR and VR will be leveraged to augment the look and feel of apps. This will allow consumers a real-life like shopping experience. For instance, the usage of virtual reality in mobile applications will enable a real-life shopping experience as consumers can virtually try-on accessories and clothes to make the best choice.
However, it is critical for developers to ensure the compatibility of the mobile app across a wide variety of OS platforms to not to restrict the client to a particular user base.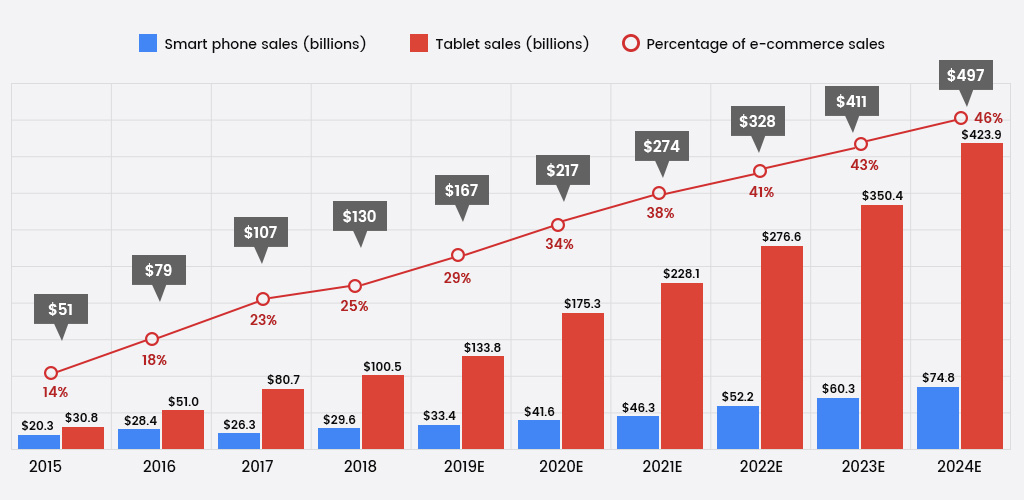 Apps that Can Do Flips
Flip or foldable phones that were a matter of the past have made its presence felt for one more time in 2021 much to the ecstasy of users with a fancy for bigger screens with better resolutions.
Here's how the return of flip phones will impact mobile app development in 2021:
The multi-window feature of flip phones will enable developers with the liberty to create apps that can offer better user experience.
The large screen feature of flip phones enables apps to run high resolution videos.
Multifunctionality is the key to the prominence of flip phone. To sustain this feature, developers will ensure a seamless and swift transition of an app from one screen to the other. The app should be able to continue from where it was paused while it shifted to another screen.
Developers will focus on enabling the multi-resume functions of apps in a flip phone. This essentially means that all the apps will stay in a resumed mode when the flip phone is on a multi-window state.
On-Demand Apps- Aladdin's Genie Is for Real
The social distancing protocols and mobility restrictions induced by the Covid 19 pandemic have promoted the popularity of on-demand apps which will be one of the raging 2021 mobile app development trends. These apps are designed to make procurement of essential as well as non-essential services at any time at the desired location.
Here's how mobile app development in 2021 will sustain the proliferation of on-demand apps:
Apps will be enabled with notification alerts so that a customer never misses out on any specials and discounts of products and services. This is a surefire way to retaining customer loyalty.
Variety of payment options will spoil customers with choices and will also be the reason for an on-demand app to be pinned on their mobile front screen.
It will be crucial for developers to design on-demand apps with easy interfaces that supports easy product exploration, adding and removing the same from the cart.
AI and ML will lend smartness to these apps which will intuitively recommend products and services to shoppers based on their recent search activities.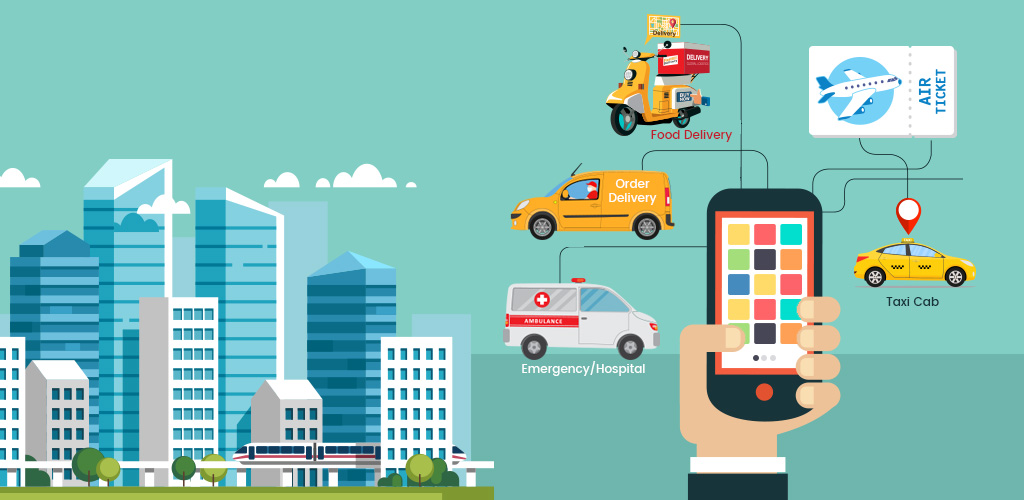 Edge Computing To Lend Apps an Edge
As mobile devices are witnessing an exponential increase in their enterprise, consumer, and industry-related critical use cases, there's a growing urgency to address the call of latency minimization in mobile networks. For instance, developers will exhibit greater application of edge computing to aid telecom operators by address the issue of a high consumption of HD quality video content in mobile devices.
Edge Computing Benefits Will Drive Mobile App Development Trend In 2021
Much to the delight of mobile game geeks, developers will be able to design game apps with high-definition visuals that can be played offline.
It is an imperative for consumers who have joined the queue of jumping into the bandwagon of autonomous driving. This concept is essential to be driven by apps that can work offline.
Running high volume data generated from predictive maintenance apps on the edge is a better cost saving proposition than on the cloud which entails high costs.
Storing data at the edge boosts its security while clearly stating the data ownership. It is always a good idea to store data locally and synchronizing only a part of it that you need to access from anywhere.
Beacons Technology to Add to the Halo of Location-Based Marketing
Business sectors turning to personalized marketing has led to the proliferation of the beacons technology and the year 2021 will see this technology as one of the essential elements of mobile app development. Beacons installed at stores connect to users' beacon-enabled smartphones. Once the connection is established, retailers can send instant notifications to users regarding any sale or discounted products available in that store.
Let's look at how the beacons technology can add to the glory of mobile apps:
It joins the dot between online marketing efforts and offline attribution. Tracking user interaction on digital ads will aid in knowing a customer's response to the add content and measure sales in the store.
A beverage store equipped with a beacon can entice persons supposedly sweating under the sweltering sun by sending an ad featuring specials on drinks on their phones.
Beacon signals will relay information on customers' movement in and across shops. This offers definitive directions to improve location, instore layouts, and product listings.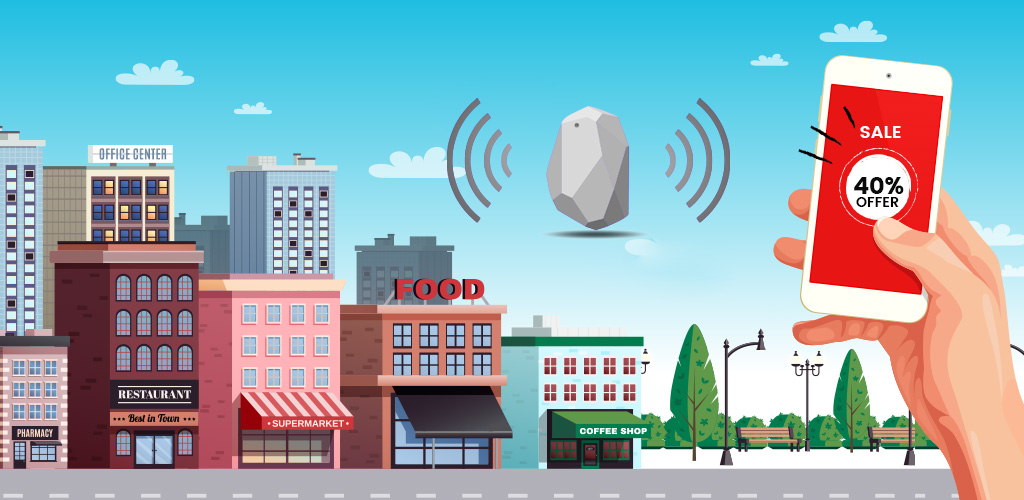 Introductions of Chatbots In Mobile Apps
Despite the presence of multiple applications on Google Play Store and Apple App Store, not a lot of them are integrated with chatbots. This is expected to change in 2021 as implementation of chatbots in mobile apps is expected to overhaul brands seeking a digital exposure. Experts state that the widening popularity of Facebook Messenger has acted as a catalyst for the implementation of chatbots on mobile.
Exploring factors that will drive the implementation of chatbots in mobile apps:
A chatbot helps to answer queries related to any component of an app in real-time. It adds to the convenience of users and is also a great boost to the brand image.
Chatbots fed with pre-packaged sales templates are an effective mode of capturing and convincing mobile app visitors about the brand's marketing goals.
Send alerts in real-time to customers to educate them on any new service or discount opportunities.
Low-Code Development to Become Mainstream
In a nutshell, low code platforms do not require high expertise in coding which makes it an extremely easy task for developers to design and build apps within the shortest TAT.
Here's throwing light on why low-code mobile app development will be mainstream:
The fact that deployment of this platform reduces the number of codes minimizes the chance of bugs which automatically expedites the mobile app development process.
AI will further expedite low code mobile app development. Exception management, connections conditions are some of the tasks that AI can help to autocomplete.
Low code cost can be paid as a subscription service. Users have the liberty to pay as per their usage. This is particularly a boon for small businesses who can free up finances for other operations.
Deploying low code development platforms allow enterprises to build apps that are functional on various platforms at the same time. It also enables an easy scaling of applications as per evolving requirements.
Parting note
Pandemic or not, technology is an everchanging phenomenon. Every year, newer technology trends have disrupted the mobile app development sector in a better way. While some of the mobile app development trends in 2021 addressed above are in light of the current pandemic era, the general essence of these trends is to amplify the existing functionality of mobile apps to boost user experience and to make them an active part of the global digital village.
Who We Are and Why Our Expertise Matters?
This article is brought to you by getSmartcoders. We are a market leader in the software and managed IT services sector. With over 8 years of expertise in designing and delivering custom software solutions, managed IT services, mobile app development, UX & UI services, we have ensured our clients remain competent in a market marked by changing technical innovations.